Chronicles of Russia's Collapse: 8.04.22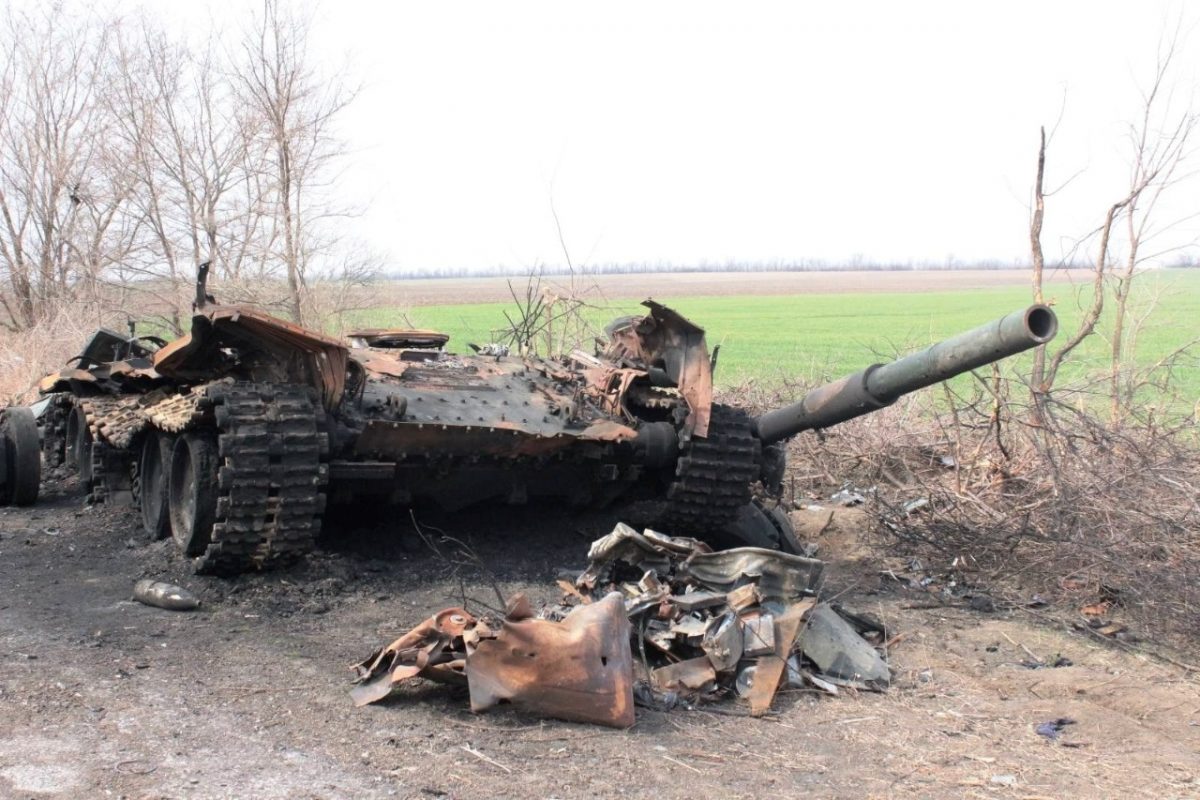 #RussiaDisintegration #РазвалРоссииCompiled by Liza Tumanova for Free Idel-Ural
Military actions
Since the beginning of the full-scale Russian invasion of Ukraine, 169 children have died and more than 306 have been injured. The numbers are not final since identification of casualties in the places of active fighting and in the territories temporarily occupied by Russia is in progress.
In Bucha, five Russians raped a 14-year-old girl, who is now pregnant. Also in Bucha, Russians tied a mother to a chair and raped her 11-year-old son in front of her. A 20-year-old girl was raped by three Russian war criminals in Irpen.
As a result of the rocket attack on the Kramatorsk railway station by the Russian Tochka-U, 52 people were killed. More than 109 people are wounded, most of them have serious injuries. The Pentagon has confirmed that the missile was fired by Russia, and Ukrainian intelligence said the strike was planned in advance.
The Russians have already abducted more than 121,000 Ukrainian children. Some of them were taken from Mariupol to Donetsk, and then in the direction of Taganrog in Russia. This includes both orphans and children who have parents.
The real reason for the death of Mantas Kvedaravičius, Lithuanian film director, in Mariupol has been revealed. He was shot by Russians, before that he had been taken prisoner. Earlier the reports said that the director was killed as a result of a rocket hitting his car. This was done in order to ensure his wife's safety while she was transporting Mantas' body from Mariupol.
"When Russian occupation forces fail to capture Ukrainian cities, they use 'scorched-earth' tactics, destroying both infrastructure and civilians" – from an article in The Washington Post.
Hundreds of Russian servicemen are submitting reports of dismissal or deserting the army to avoid fighting in Ukraine. Interrogations of Russian prisoners of war and intercepted conversations between Russians and their relatives reveal that the commanders threatened them with imprisonment for disobedience.
Russia keeps applying its traditional tactics, namely to force peace through war, says Volodymyr Fesenko, Ukrainian political analyst.
"It is obvious that they have been lying there for days. Because some bodies were partially eaten by dogs," Anatoliy Fedoruk, Bucha Mayor, told how the inspection of the town began and how the first bodies of civilians killed by the Russian military were found.
Two Belarusian officers exploded on an anti-tank mine laid by Russian soldiers in Belarus.
"Dad seems to be dead." Amnesty International, the international human rights organization, has posted on its website new eyewitness statements about war crimes committed during the Russian occupation of Kyiv suburbs.
In addition to mass killings and tortures of civilians, intentional destruction of infrastructure and residential buildings, Russia also uses illicit munitions in Ukraine. These include cluster munitions, phosphorus bombs and highly dangerous landmines banned by many international conventions.
Since the beginning of the full-scale Russian invasion of Ukraine, the loss of Russian military personnel has reached about 19,000 people.
Pentagon chief Lloyd Austin believes that, because of the failures, Vladimir Putin probably gave up on trying to seize Kyiv, refocusing the efforts on the south and east of Ukraine.
After the killings and robberies in Ukraine, Russian looters are transporting the cars stolen in Ukraine through Belarus.
The Russian military intends to wipe out Popasna, Luhansk region, by using mines, artillery, "Grades", "Smerches", and aerial bombardments.
A Ukrainian woman with a red manicure, who was shot dead by Russian soldiers in Bucha, deliberately stayed in the city to help people. She spent a week in the shopping mall, feeding people who had taken refuge there and preparing food for the Ukrainian military.
Faced with the realities of the war in Ukraine, Russian servicemen no longer believe in victory and also doubt that they will manage to survive at all. The military of the Russian Armed Forces began contacting their relatives with dying wishes, as another audio interception by the Security Service of Ukraine revealed. For instance, one of the invaders asked his wife to do all she can to prevent their son from joining the army.
Since the beginning of the war, about 700 people have been killed in Chernihiv. Dozens of bodies have not yet been identified, 40 people are considered missing.
The Russian Federation launched a missile attack on Odesa.
The express delivery company CDEK refused to accept parcels with goods for dispatch if a sender is unable to prove the ownership, for example, by providing a cash receipt from the store. Russian looters are in despair.
Ukrainian citizens neutralized a modern Russian drone "Orlan-30".
A Russian state aircraft is suspected of violating Finnish airspace in the morning of 8 April.
The Russian military abducted eleven leaders of Ukrainian communities. Now they are held in captivity. The Association of Cities addressed its international partners with a request to help free them.
Russian troops did not let the humanitarian convoy pass to Melitopol and stole the entire cargo. They took away all the buses and trucks with humanitarian cargo that were heading to Melitopol.
The Russian military shelled the gas pipelines in Huliaipole and Orikhiv. Due to damage, more than 20 thousand users in Zaporozhzhia region were left without power supply.
At night, Russian troops fired on the icebreaker "Kapitan Belousov" staying in the Mariupol commercial port. There was a civilian crew on board. As a result of the shelling, one person was killed and several others were injured.
In Bucha, 163 locals killed by the Russian military have been identified. About 320 bodies have been found so far. The search continues.
Over the past day, Russian troops fired at the Kharkiv region almost fifty times.
Russian soldiers threw Chornobyl documents and archives into the trash. These materials have been collected for decades.
Turmoil in the RF
Yandex and Mail.ru began labeling Google services as violators of the Russian law. Earlier, Roskomnadzor imposed measures of "information and economic coercion" on the company and its resources.
The Social Insurance Fund ordered the development of a system to share data on the company employees' health. It aims to reduce the number of insurance cases by "prevention and early detection of occupational diseases.
The Russian Ministry of Justice has closed Russian representative offices of 15 organizations including Amnesty International and Human Rights Watch.
The Ministry of Digital Development has compiled a list of Russian online services recommended to replace their foreign counterparts, the owners of which have decided to leave Russia. The list of 15 categories includes social networks, messengers, browsers, antiviruses, services for booking accommodation and air tickets, cab aggregators.
There are 14,311 new cases of COVID-19 infection in Russia.
The Ministry of Justice declared the rapper Face a "foreign agent.
The Russian aluminum company "Rusal" called for an investigation into the killing of civilians in Bucha near Kyiv.
Sergei Beseda, the former head of the 5th Service of the FSS, who, according to unofficial reports, was placed under house arrest shortly after the full-scale Russian invasion of Ukraine, was transferred to the Lefortovo pre-trial detention center.
The Prosecutor General's Office of the Russian Federation declared the British Royal Institute of International Affairs "an undesirable organization."
A MiG-31 fighter crashed in Leningrad region.
The Supreme Court of Belarus has declared Telegram channels Nexta, Nexta Live and Luxta "terroristic organizations".
For the third time, the festival "Nashestviye" has been postponed for a year.
Pussy Riot participant Lyusya Shtein cut off her tracking bracelet and left Russia. Maria Alyokhina has also cut hers and now she faces a real sentence.
Now emojis cannot be used in promotional posts in "VKontakte". The social network has updated technical requirements for advertising.
Friendly Fire
Mitsubishi has suspended production at its factory in Kaluga.
Taiwanese electronics manufacturer Acer decided to suspend operations in Russia because of the full-scale attack on Ukraine.
German manufacturer Dr. Oetker will finally leave Russia and sell its factory to Russian management.
The Belarus-based IT company EPAM Systems decided to leave Russia because of the war in Ukraine.
Japanese Komatsu has suspended production of construction equipment at its factory in Yaroslavl.
What is Left of the Economy
Monthly inflation in March reached 7.61%, which is a 20-year record. Among the most expensive goods are onions, sugar and washing machines.
Sberbank stops abroad transfers in foreign currency. Now it is impossible to transfer money via the "Sberbank Online" application or at bank branches.
Russian banks began to withdraw mortgage approvals that had been issued. Assigned deals are cancelled and the terms are revised.
Investment in Russian commercial real estate may fall to its lowest level since 2009. According to the CBRE forecast, in case of "escalation of tension" investments will amount to 100 billion rubles only, under a more optimistic scenario – 140 billion rubles. "We're not anticipating anything good this year," the experts say.
At the extraordinary meeting, the Central Bank decided to reduce its key rate by 3 percentage points – from 20% to 17%.
160 international networks have announced temporary suspension of activities in Russia. The final departure of most of these brands would cause shopping centers to lose up to 70% of their revenues. Experts believe that brands from friendly countries and local brands will not be able to replace them in the near future.
The United Kingdom has followed the United States in imposing sanctions against Katerina Tikhonova and Mariya Vorontsova. London calls them "daughters" of Vladimir Putin. Their British assets are to be frozen; they are also banned from entering the Kingdom.
The European Union has approved a new package of anti-Russian sanctions, which provides for the rejection of Russian coal since August. The EU had planned to do it earlier, but Germany asked for a postponement.
The Prime Minister of Japan announced tightening the sanctions against Russia. The sanctions list includes Sberbank and Alfa Bank, as well as 400 Russians. Imports of Russian vodka and timber are also banned.
"Sibur" and China's Sinopec froze part of construction of the $10 billion Amur Gas Chemical Complex because of sanctions against Roproekt. Sinopec has suspended talks concerning $500-million investments in the plant.
EU countries froze €30-billion Russian and Belarusian assets after sanctions had been imposed due to the invasion of Ukraine. Among them are yachts, helicopters, real estate owned by oligarchs from both countries, as well as works of art worth almost €7 billion.
Chinese telecom equipment manufacturer Huawei has sent some employees of its Russian office on vacation for a month.
The U.S. Treasury Department expanded sanctions against the Russian diamond mining company Alrosa, instructing it to block its assets.
Estonia will completely stop importing Russian gas by the end of 2022.
Lukoil, Russia's second largest oil company, may shut down its refineries due to a surplus of fuel oil.

Japan will reduce imports of Russian coal in response to Russia's invasion of Ukraine.
International Isolation
The president of the European Commission, Ursula von der Leyen, handed over to President Volodymyr Zelenskyi a questionnaire for granting Ukraine candidate status in the European Union.
On April 4, Distributed Denial of Secrets (DDoSecrets) published an archive of the Russian state media holding VGTRK (Russia 1, Russia 24, Vesti FM). It turned out to contain a lot of interesting information. For example, Zhirinovsky's complaint, where he asks to show on the news his meeting with students, at which a concert and distribution of non-alcoholic mead was organized. He was hospitalized a week later, so this was probably his last letter of complaint in his life.
Japan declared eight employees of the Russian embassy and trade mission in Tokyo persona non grata.
American director Cary Fukunaga, known for the last film in the James Bond franchise, "No Time to Die," has joined the World Central Kitchen Charitable Association to volunteer in Ukraine. He delivers food around the country to those in need.
Finland decided to expel two employees of the Russian embassy. Another one won't get his visa extended. European countries have already expelled more than 250 Russian diplomats.
World food prices have reached a new historic high. This dynamics is associated with turmoil in the markets of vegetable oils and cereals due to Russia's war against Ukraine, according to the UN Food and Agriculture Organization.
Portishead will perform for the first time in seven years at a charity concert in support of Ukraine.
The Latvian Saeima defined May 9 this year as the Day of Remembrance for the Ukrainians killed in the war.
U.S. President Joe Biden approved the results of the UN General Assembly vote to expel Russia from the Human Rights Council.
German President Frank-Walter Steinmeier supported the idea that Putin and Russian Foreign Minister Lavrov should stand trial for war crimes in Ukraine.
46 UNESCO member countries refused to participate in the 45th session while it is chaired by the Russian Federation.
Microsoft thwarted a cyber attack by Russian hackers on government agencies in the US, EU and Ukraine.Moldova banned the St. George's Ribbon, as well as the Z and V symbols used by Russian troops in the invasion of Ukraine.