The Estonian president invites Vladimir Putin to Estonia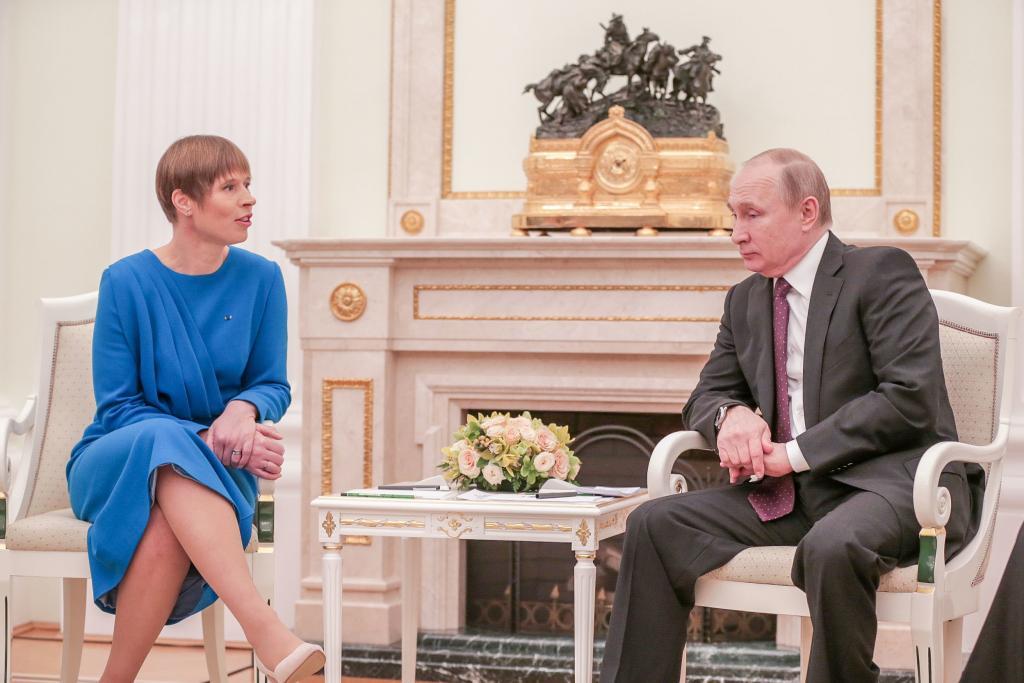 Kersti Kaljulaid, the Estonian president, invited her Russian counterpart, Vladimir Putin, to attend the World Congress of Finno-Ugric Peoples in June 2020.
Kaljulaid sent the invitations to the presidents of Finland, Hungary and Russia – Sauli Niinistö, János Áder and Vladimir Putin, respectively.
The congress, which will take place at the Estonian National Museum in Tartu from 17-19 June 2020, will focus not only on preserving and passing on the Finno-Ugric languages but also the impact of climate change on people and the issues related to cultural innovation.
"I am very pleased that next year's congress is being held at the Estonian National Museum, whose permanent exhibition on the Finno-Ugric peoples provides an overview of the rich heritage we share," Kaljulaid wrote in the invitation sent to the three presidents, adding that the congress would provide a good opportunity to discuss the preservation of the cultural heritage of Finno-Ugric peoples in a changing world.
The Finno-Ugric world
The World Congress of Finno-Ugric Peoples, organised since 1992, takes place in every four years. Estonia has hosted it once before – in 2004 – while Russia, Hungary and Finland have all hosted it twice. The presidents of the four countries have so far always participated in the event.
The Finno-Ugric peoples are the peoples who speak the Finno-Ugric languages. The four most numerous Finno-Ugric peoples are the Hungarians (13–14 million), Finns (6–7 million), Estonians (1.1 million), Erzya and Moksha (744,000). The first three inhabit independent states – Hungary, Finland, and Estonia – whereas Mordovia is a republic within Russia.
Other Finno-Ugric peoples have autonomous republics within Russia: Karelians (the Republic of Karelia), Komi (the Komi Republic), Udmurts (the Udmurt Republic), Mari (the Mari El Republic) and Moksha and Erzya (the Republic of Mordovia).
The Khanty and Mansi peoples live in the Khanty–Mansi Autonomous Okrug of Russia. The Komi subgroup, Komi-Permyaks, used to live in the Komi-Permyak Autonomous Okrug, but, today, this area is a territory with special status within the Perm Krai in Russia.
A significant number of Finno-Ugric peoples also live in the United States, Romania, Slovakia, Sweden, Canada and Norway.
Kaljulaid met with Putin in April this year in Moscow; the two presidents discussed the mutual relations between Estonia and Russia, economic cooperation and the international situation. The last time a Russian president visited Estonia was during the August 1991 coup in the Soviet Union, when Boris Yeltsin flew to Tallinn to throw his weight and support for an independent Estonia. Russia, however, was itself still part of the Soviet Union at the time (until December 1991).
September 19 Inyazor of Erzya people decided to appeal to Eerik-Niiles Kross, member of the Parliamentary Assembly of the Council of Europe from Estonia, with a request to estimate national policy of Russia.
Silver Tambur, Estonian World