Protesters at Moscow consulate in Kharkiv demand freedom for captive nations in Russia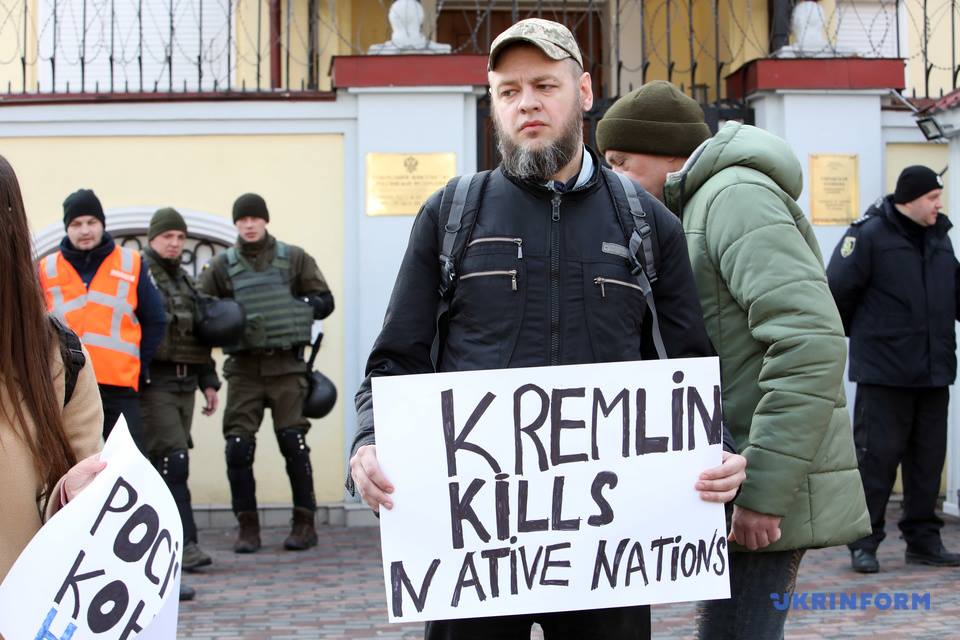 A group of five activists held a demonstration yesterday at the Russian consulate general in the Ukrainian city of Kharkiv to demand the return of Crimea to Ukraine, freedom for Ukrainian political prisoners held in Russia, and the right of self-determination for the captive nations within the current borders of the Russian Federation.
Vadym Pozdnyakov, the leader of the Svitanok group, said that "we are holding this action in solidarity with political prisoners of the indigenous peoples of the Russian Federation."

"We support their Free Idel-Ural Movement for the peaceful exit of the indigenous peoples from the Russian Federation, that is, for their full self-determination. Today their national interests are being infringed upon." The only state language in Russia is Russian, and those who speak other languages are threatened with the loss of their national identities.

The demonstrators carried signs reading "Russia is a Concentration Camp of Peoples," "Free Idel-Ural," and "The Kremlin Kills Native Nations." No one from the consulate, which is behind concertina wire, came out to meet them, and the protesters left their signs against its walls.

This event represents the convergence of three things,a development which must be worrisome to the Kremlin: increasing demands for the return of Crimea to Ukraine, Kyiv's support for non-Russian nations in Russia, and activists supporting one group of non-Russians broadening their demands to include all non-Russians.