Moscow is called upon to release Danis Safarghali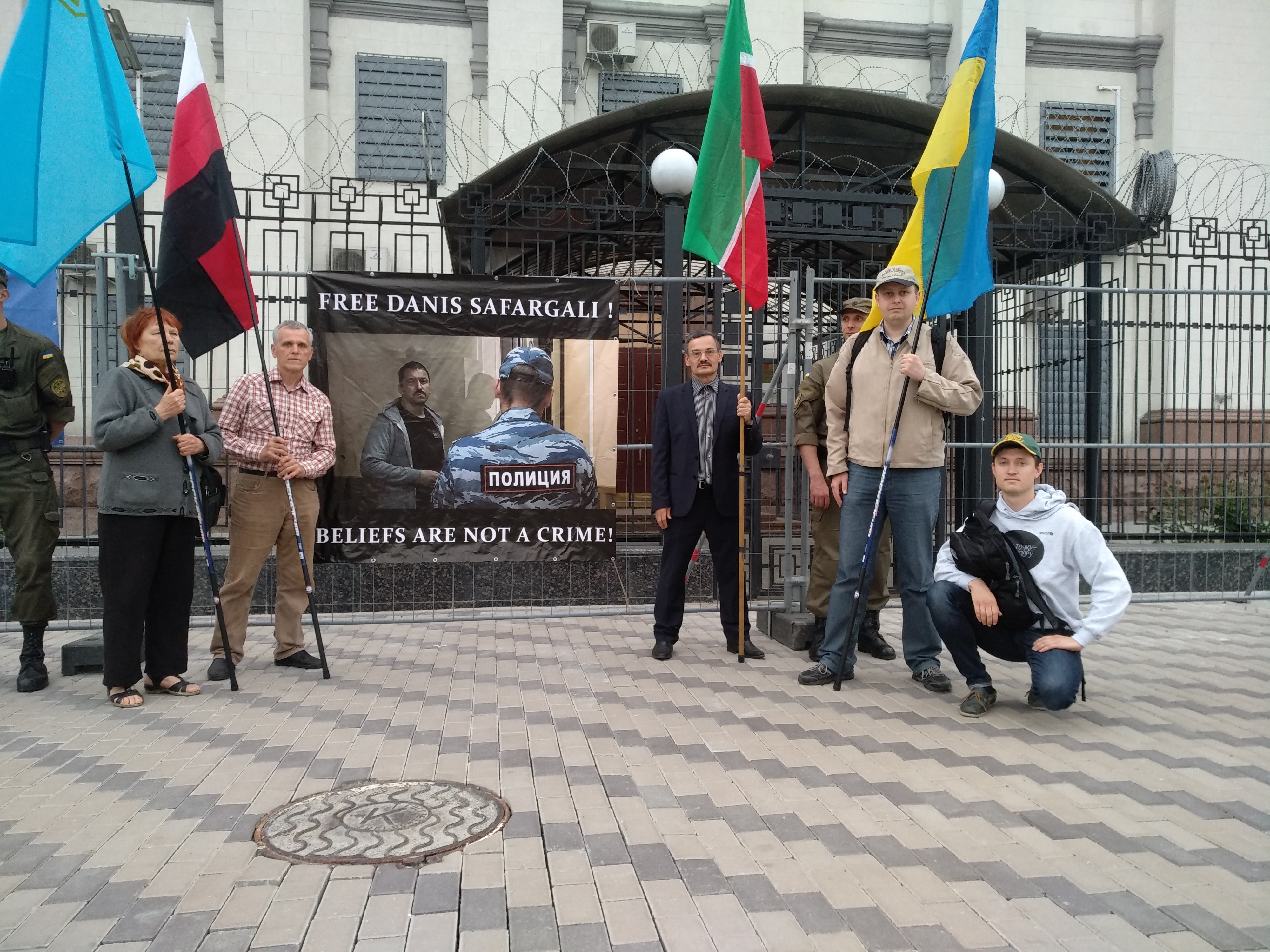 On May, 16th Free Idel-Ural civic movement picketed the embassy of the Russian Federation in Ukraine. Activists announced two demands: to stop prosecution of national movements' activists and release a Tatar political prisoner Danis Safarghali.
The picketers brought a banner with portrait of the political prisoner and slogan "Free Danis Safargali! Belief is not a crime!". Throughout the action, the embassy officials never came out to communicate with the activists.
"Today we stand here to support Danis Safarghali, a founder of the Association of indigenous people of the Russian Federation, well-known human rights activist, who fell victim to Putin's repressive machine. Authorities dared not to repress Danis openly for his human rights activity; therefore they provoked him into a fight, forcing to protect his pregnant wife from an attack. Our movement supports Danis and his family by all available means. But this is not enough. We asked President [of Tatarstan] Rustam Minnikhanov to use all possible channels for liberation of Safargali and many other political prisoner from Republic of Tatarstan", – said one of Free Idel-Ural movement co-founders Rafis Kashapov, explaining the goals of the protest.
For reference, civic activist Danis Safarghali was detained on October 21, 2016 on charges of hooliganism (Safarghali was provoked into a fight to protect his pregnant wife from an attack). On the very next day, Vahitovsky district court of Kazan' city has imposed a preventive measure in the form of detention for Danis. Safarghali was charged under Article 115, part 2 of Russian Federation Penal Code ("Intentional infliction of hooliganism motivated bodily harm"), Article 116, part 2 of the Code ("Hooliganism motivated battery") and Article 213, part 2 of the Code ("Premeditated group hooliganism").
On October 27, 2016 yet another criminal case was initiated against Danis under Article 282, part 1 of Russian Penal Code ("Incitement of hatred and enmity using Internet") for critical online postings about Russian authorities.
According to information of the Memorial human rights center, which acknowledges Danis Safarghali as a political prisoner, advised that officers of the republican Center on extremism counteraction took screenshots of Safarghali's profile in VKontakte social network back in April, 2016, two days prior to the altercation.
Today Danis Safarghali's wife Guzel is forced to raise and provide for 4 children on her own. You can help Safarghali family by bank transfer to Sberbank card number 5336 6900 7470 9926 (Guzel Safarghali).