Mordovian authorities were demanded to establish Erzyan gymnasium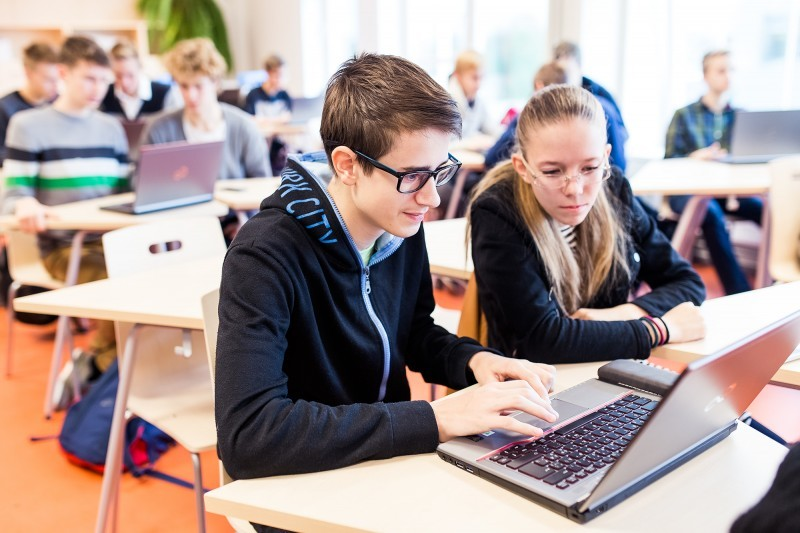 Syres' Boliayen', Inyazor (chief elder) of Erzya people, appealed to government of Republic of Mordovia with a requirement to establish an Erzyan gymnasium in Saransk. He is convinced that Finno-Ugric peoples of Russia on the verge of total extinction because of Moscow's aggressive assimilation policy.
"Our people are under powerful assimilatory pressure. Lot of young Erzya in their 20s or 30s know the mother tongue only at primitive colloquial level. They are not able to write in Erzya language. Others do not know native language at all. This influences young families even in completely Erzya-populated villages. Russification goes on such a great scale that it is just enough to retain current situation for final elimination of our language. They say: teach your children at home, speak Erzya language in families! What a terrific cynicism! Enormous sums of budget money are allocated for development of Russian language, but Erzyan language is supposed to be maintained just in families. Erzyan gymnasium is an urgent medication for our nation. If there is no gymnasium then there will not be any development of language, literature, education! Moscow can just wait yet another 15-20 years for "final solution" to become dreadful reality not only for Erzyans but also for Mari and Udmurts. I suppose that Albert Razin realized this very well. For this very reason he commited self-immolation. We simply do not have enough time!", – Syres' Boliayen' commented reasons of the appeal.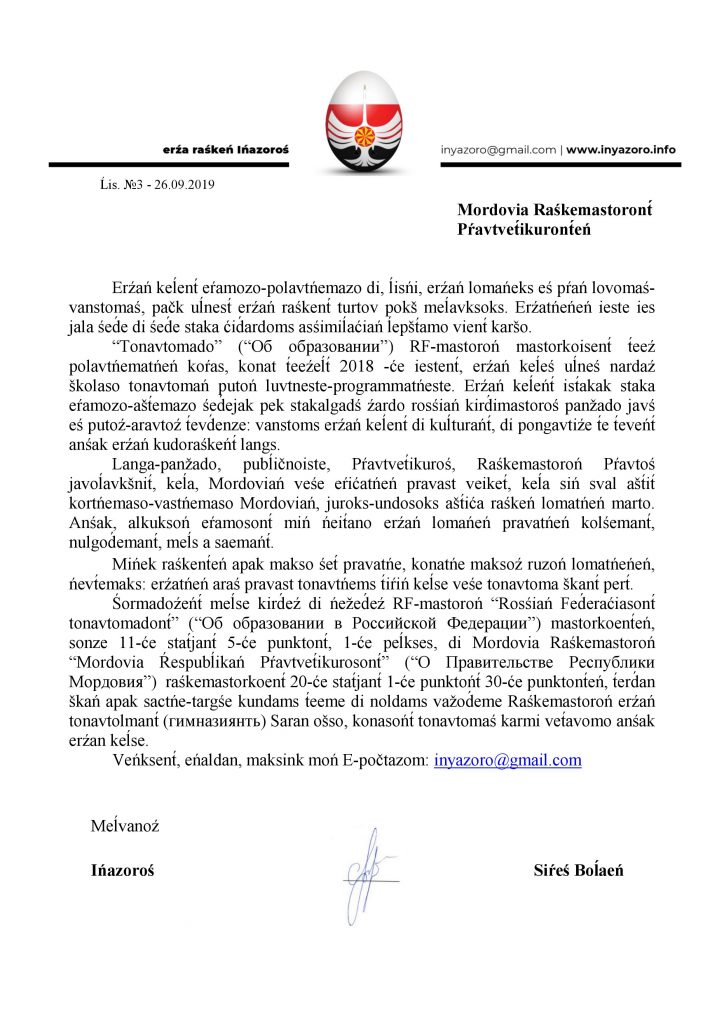 On September 19, 2019 Erzyan Inyazor appealed Eerik-Niiles Kross, member of the Parliamentary Assembly of the Council of Europe from Estonia, with a request to initiate an estimation of national policy in Russian Federation as well as observance of human rights, particularly rights of indigenous Finno-Ugric peoples to receive education in their mother tongues.
On September 10, 2019 Albert Razin, Udmurt scientist, accomplished an act of self-immolation in Izhkar (rus. Izhevsk), capital city of Udmurt Republic. He demanded to protect Udmurt nation and its language from extinction.
On January 2019 Council of Europe Advisory Committee on the Framework Convention for the Protection of National Minorities criticized Russia for its national policy. Experts expressed deep disturbance because of "growing prevailing of Russian" together with "absence of effective support national minorities' languages ".