Chronicles of the collapse (10.03.2022)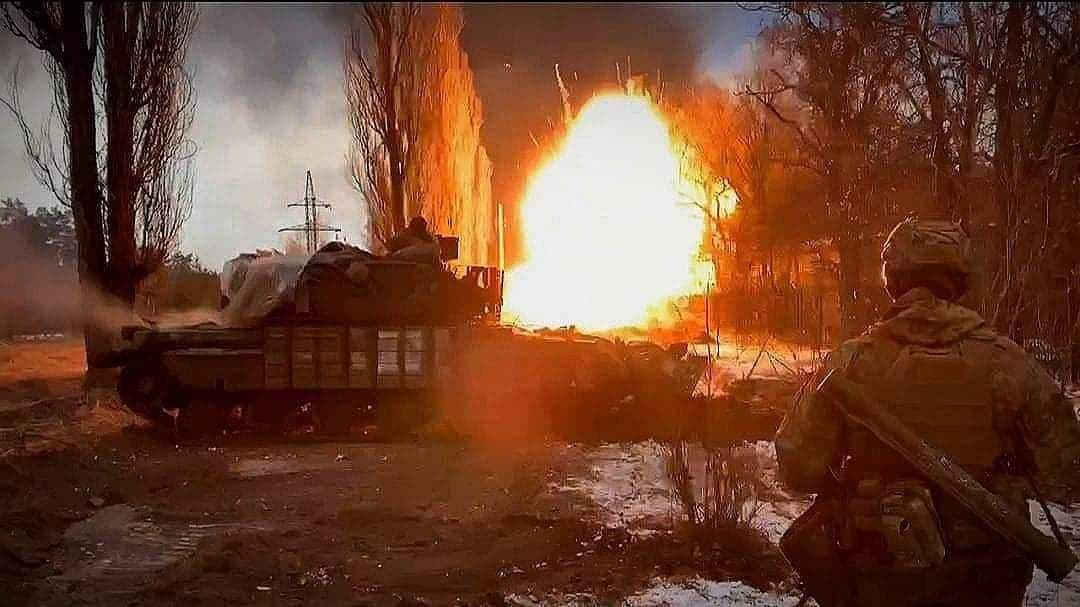 The Collapse of Russia Live: A Brief Summary of the Key Events of the Day.
Military operations
Since the beginning of war, 71 children died by hands of Russian troops. More than 100 children are wounded.
The European Union is planning to «sharply» increase defense expenses due to the Russian invasion of Ukraine in February.
A new law came into force allowing civilians to kill Russian occupiers.
Russia is using incendiary bombs for shelling Ukrainian Chernigiv. It is prohibited by international law.
During yesterday's bombardment of the maternity hospital in Mariupol, 1 child and 3 adults died. 17 people were wounded.
Governor of Kuzbass Tsyvelev said about the Russian military: "they were made use of ".
While approaching Kyiv, a column of Russian tanks was destroyed to the ground by Bayraktars and artillery of the Ukrainian military.
Russian Federation troops meanly use sanitary armored vehicles for delivery of shells and ammunition.
In Kherson, the Russian military forces are looting offices.
In the Brovary region of Kyiv oblast, Ukrainian military have destroyed Russian colonel Andrey Zakharov who received a medal from Vladimir Putin in 2016.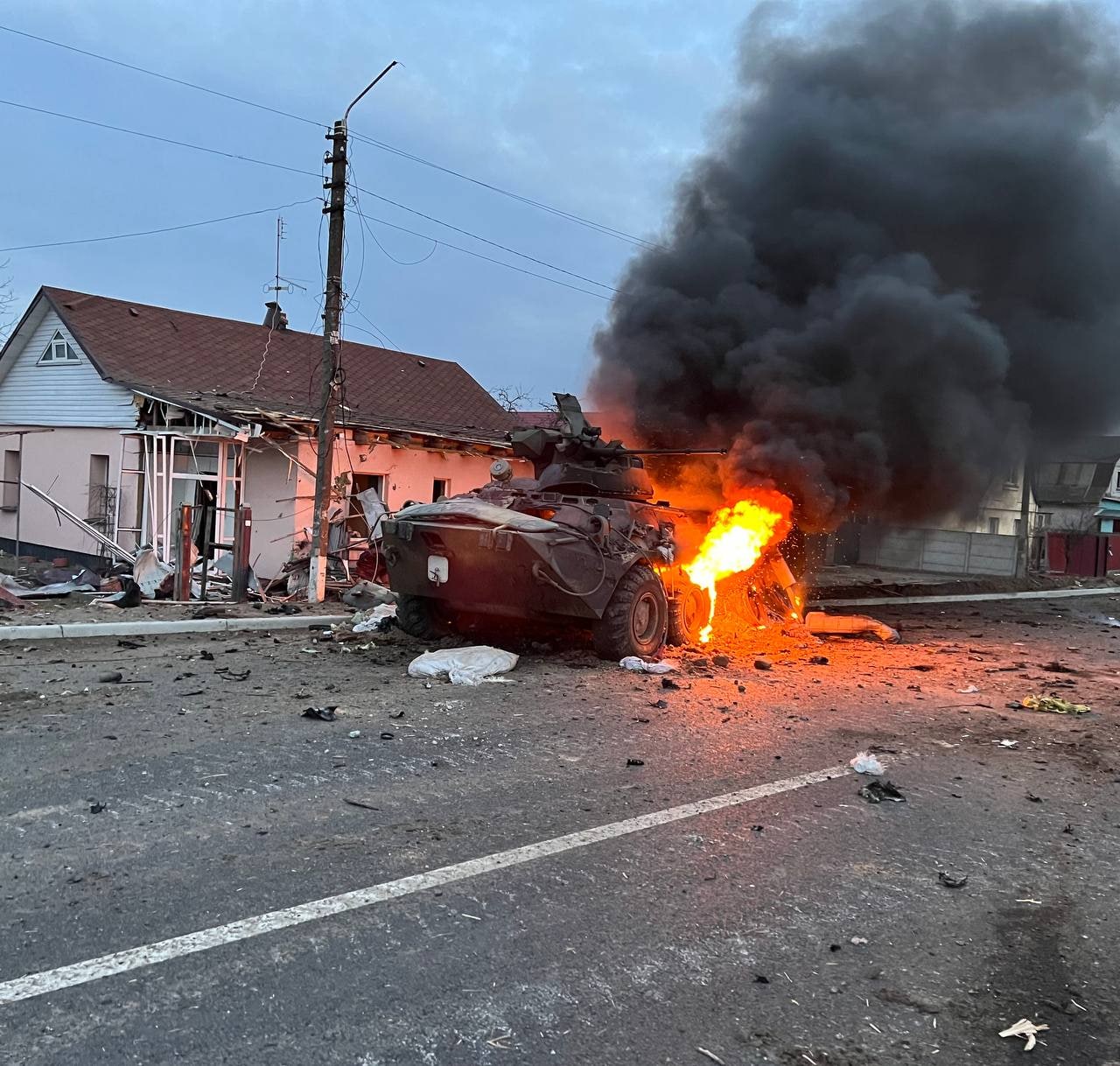 Unrest in RF
Today, Duma will pass a law on toughening rules of conscription for military service.
The list was sent to the Russian government and the Prosecutor General's office with 59 organizations that could be nationalized due to suspension of their activity in Russia. Porsche, Apple, IKEA, H&M, Microsoft, IBM, and McDonald's are on the list.
Putin has supported the idea to introduce external management at the enterprises of foreign companies that decided to leave the Russian market.
More than 200 participants of unlawful protests were arrested in Moscow. More than 1,100 people were fined.
«Vkontakte» is going to block the «Meduza» page.
Belarusian court recognized three videos of Yuriy Dud Youtube channel as extremist.
Limitations on currency operations were painfully perceived by the population. In particular, considering the fact that citizens brought more than 6 billion dollars to banks last week.
Since February 24, Moscow district courts have received 4355 administrative materials against participants of unlawful protests against war in Ukraine.
In all Russian regions, there are hotlines operating on issues of unjustified price increase on socially significant goods and services.
51 231 new cases of coronavirus infection were registered in Russia.
The founder of international processing company ChronoРay Pavel Vrublevsky was detained by law enforcement agencies on suspicion of fraud.
Wealthy Russians have become increasingly interested in purchasing real estate and starting business in the United Arab Emirates.
The Council for human rights reported about three internal inspections after reporting about the beating of detainees in the Moscow police department of «Brateevo».
The management of the air cargo carrier «Atran», one of the largest in Russia, has warned pilots about suspension of flights due to lack of spare parts.
The former Haas Formula-1 pilot Nikita Mazepin will establish the fund «We Compete As One» in order to support Russian sportsmen who were suspended from competition «for political reasons».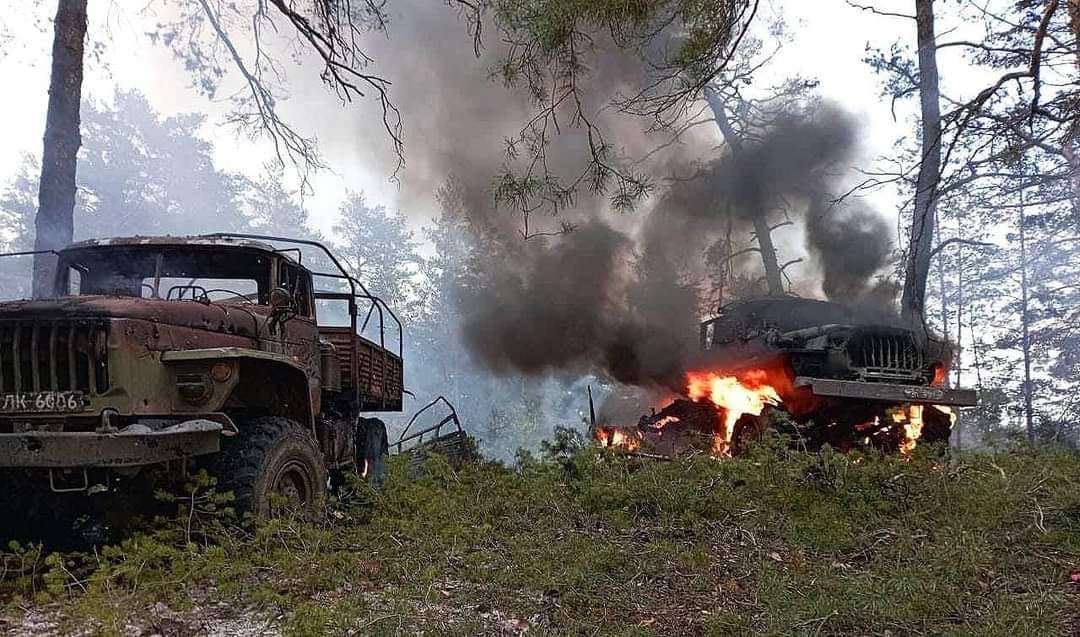 "Self-inflicted wound"
Amazon stops shipping goods to Russia.
Google has banned Russian users from buying applications in the Play Market – they will only be able to use the free content.
IELTS and TOEFL have suspended English exams in Russia.
Three world's largest record companies have stopped work in Russia.
The Japanese brand Uniqlo has decided to suspend its activities in Russia.
Following the outbreak of Russia's war in Ukraine, the largest foreign manufacturers of software for business (Oracle, SAP, Autodesk) and for personal use (Adobe and Microsoft) announced the suspension of their activities in Russia.
Due to the restrictions of TikTok in Russia, the remaining advertisers have ceased their collaboration with Russian bloggers.
The Danish jewelry company Pandora temporarily suspends operations in Russia and Belarus.
Sony and Nintendo suspends the deliveries of consoles and the operation of the PlayStation Store in Russia.
What is left of the economy
Visa and Mastercard have stopped card service in Russia.
YouTube has disabled monetisation for bloggers from Russia.
The Chinese government authorities have refused to supply spare parts to Russian airlines.
Annual inflation in Russia accelerated in February compared to January, Federal State Statistics Service (Rosstat) data show.
International agencies Moody's, S&P and Fitch one by one collapsed Russia's sovereign credit ratings from investment grade to pre-default one.
The price of oil could reach the 240 level. In such a scenario, the chances are high that the global economy will enter a recession as early as Q4 2022.
Swedish analysts believe that Western sanctions against Russia will lead to a 6.5% increase in consumer prices this year due to an "inflation shock".
The dollar is breaking new records. The national currency has almost halved in value compared to the US currency.
Sberbank cut interest rates on the "Currency Save" and "Currency Manage" deposits. The maximum rate on the "Currency Save" deposit in dollars is 3% (previously 7%), in euros 2% per annum (instead of 6%).
The US promises to punish Chinese companies that bypass anti-Russian sanctions.
The world may face a shortage of sunflower oil because of the war in Ukraine. The price of palm oil is also rising.
Cellular communication prices could rise by around 10% by the end of 2022.
Russia's credit rating ended up at 1998 levels when the country defaulted on its obligations.
US sanctions against Russian banks have hampered Citigroup's attempts to sell its retail business in Russia.
France's largest bank, BNP Paribas, has restricted access to its IT system to employees based in Russia.
The Central Bank has decided not to resume trading on the Moscow Exchange on 10 March in the stock market section. The last time trading was held on the platform was on 25 February.
Following Russia's outbreak of war in Ukraine, sanctions have been imposed on Russia, which can affect businesses ranging from large-scale manufacturing to start-ups and catering establishments.
Russian investors have become increasingly active in trading the yuan.
The government has defined a list of foreign goods and equipment that are banned from exporting from Russia until the end of the year. The list includes railway cars and locomotives, technological, telecommunications and medical equipment, as well as agricultural machinery.
The Bank of Russia has introduced a new procedure for cash currency transactions for businesses. Starting on 10 March, companies and entrepreneurs can receive US dollars, yens, pounds and euros not exceeding $5,000 and only to pay for business trips abroad.
"This will take us back to 1917". "Nornickel" CEO Vladimir Potanin on nationalisation plans in Russia.
Russia will impose a ban on grain exports to EAEU countries and sugar exports to any third countries.
As a result of the "military operation" in Ukraine, Russia may relapse into the widespread and prolonged financial and economic isolation for the first time in its post-Soviet history.
International isolation
Russia will terminate its membership in the Council of Europe at the end of the current financial year. Russian citizens will not be able to appeal to the European Court of Human Rights after leaving the organization.
The Constitutional Court of the Russian Federation has left one of the associations of the European courts.
The UK imposed new sanctions against Abramovich, Miller, Deripaska and Sechin.
EU sanctions require Russia to return leased aircraft by 28 March, but the Ministry of Transport had suggested that planes leased from foreign companies should be kept in Russia and paid for in rubles.
Andrey Guriev Jr. had to resign as CEO of "PhosAgro" and step down from the company's board of directors along with his father because of Guriev Jr.'s inclusion in the EU sanction list.
The British regulator has temporarily suspended Roman Abramovich's Evraz listing on the London Stock Exchange because of the sanctions.
Michael Piotrovsky, Director of the Hermitage Museum, spoke about the severance of relations between the Hermitage Amsterdam and the museum in Saint Petersburg.
Goldman Sachs is the first of the big Wall Street banks to decide to shut down the activity in Russia.
The son of a British MP and father of 3 came to fight for Ukraine.
In today's interview Maye Musk, mother of Elon Musk, wearing the Ukrainian vyshyvanka spoke about how proud she is of her children and their support for Ukraine.
The Duke and Duchess of Cambridge visited the Ukrainian cultural center in London, where volunteers collect and sort humanitarian aid to affected Ukrainians.