Chronicles of collapse: 03/08/2022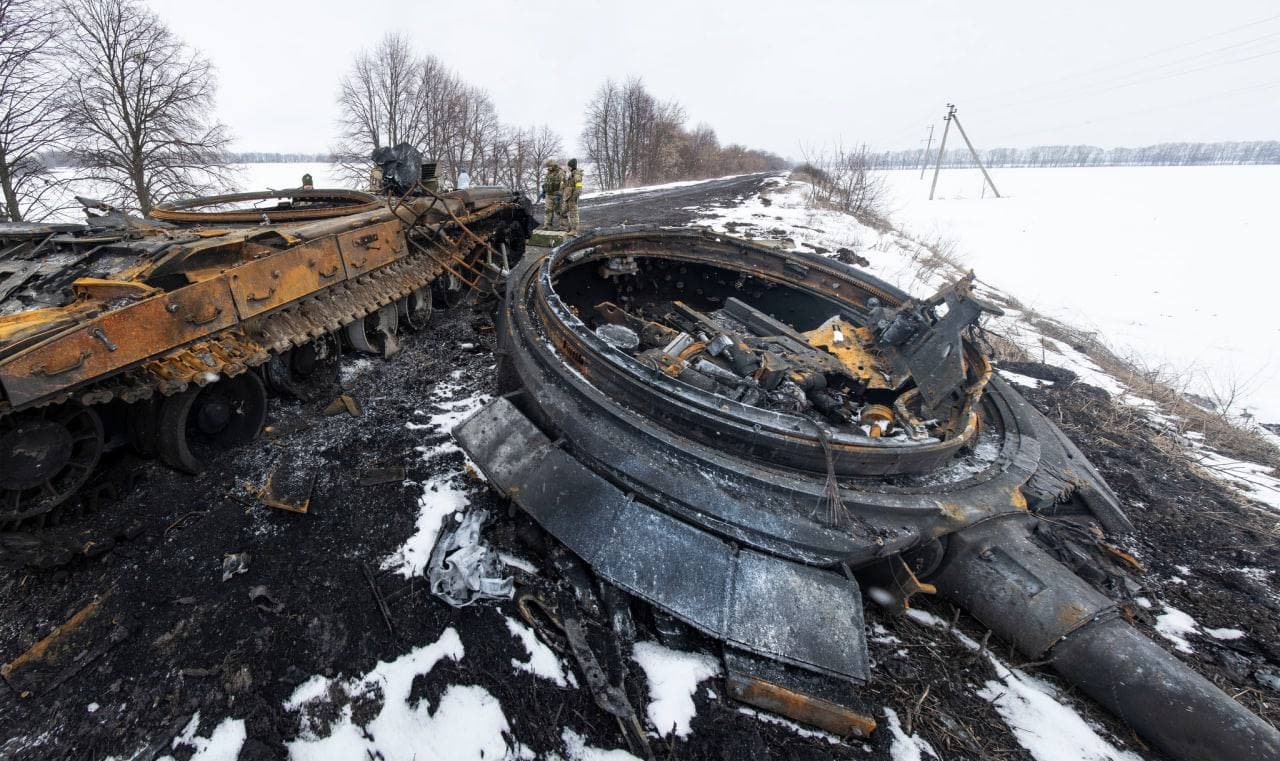 The collapse of Russia live: briefly about the main events of the outgoing day.
Military operations
Just outside Kharkiv, Ukrainian troops eliminated Vitaliy Gerasimov, Major General of the Russian army.
Russia is being subjected to massive cyberattacks by unknown individuals. They hacked the sites of the Ministry of Culture, the Federal Penal Correction Service, the Federal State Statistics Service and other Russian government agencies, anti-war pictures being placed there.
500-kg bombs were dropped on residential buildings in Sumy.
Demoralized Russian soldiers are rendering themselves prisoners on a massive scale. They are saying about war crimes of the Russian army, murders and robberies of peaceful Ukrainians.
Russian troops continue firing on civilians and residential areas of Mariupol.
One of the RF elite military units surrendered.
As of March 8, the Ukrainian army neutralized over 12,000 of the Russian military personnel.
Russian troops are again shelling the "green corridor", which was agreed upon for evacuating civilians from Mariupol and Sumy.
Russian armored personnel carriers are breaking down en masse even before crossing the Ukrainian border.
A Russian soldier's conversation with his girlfriend was intercepted. He said that the day before in the woods, he and his comrade had met some civilian Ukrainians whom they stripped, searched, and then shot because they could not afford to hold the prisoners.
In Kharkiv, Russian invaders bombed the animal shelter. Five dogs died under shellings and a couple more were injured.
Some Russian soldier says: "We were left behind our column and hid in bushes. For two days we ate our military ration. Then your (Ukrainian) armed civilians came to us and said that we could either surrender or be killed. So we left behind all our belongings and vehicles. And now we're here in captivity".
A Latvian congressman volunteers to join Ukrainian armed forces in the fight against Russians.
Instability in the Russian Federation
The employees of Russian companies are being moved into offices so they can chat and calm down. They get counseling sessions with psychologists and daily video messages.
The government of the Russian Federation has banned the export of medical products delivered from "unfriendly" countries. Individuals are not affected by the ban.
Radio Sputnik will now broadcast on the Ekho Moskvy frequency.
There are 66 576 new cases of coronavirus inflection in Russia.
Journalists are leaving Russia in droves, often going to the EU countries.
Colonel V.A.Savin, head of the Center for Combating Extremism, also known as "Э" Center, in Moscow, was detained on a bribe of 5 million rubles.
Self-infector
Coca-Cola, McDonald's and Nestle are leaving RUssian market.
Apple has blocked streaming of the spring release from Russians.
iPhone 13 and iPhone 13 Pro will now have a new color, but not in Russia.
Diary manufacturer Arla Foods and Levi's have suspended their work.
Construction store chain OBI is closing in Russia. 4900 employees will be laid off. Also the company-owner of Estee Lauder, Clinique and Bobi Brown and sports brand Adidas.
Procter & Gamble, the manufacturer of Tide, Fairy, Gillette and other brands is limiting the stock variety and suspending all media activity.
Apple has suspended access to app advertisement for Russian developers in the App Store. All the active campaigns will be suspended, new ones will not be approved.
Upwork users from Russia and belarus will not be able to create new accounts and contracts, their profiles will not be shown among the search results anymore.
The English premier-league is suspending championship streaming contracts with Russian online-cinema Okko.
Depositphotos has halted sales and access to the photo stock for Russian and Belorussian clients.
Online-store of Reserved clothing has suspended work in Russia due to their invasion in Ukraine.
The economy, or what is left of it
Russia has become the world's leader in the number of sanctions imposed on it, overtaking Iran in this regard. Since February 22, 2,778 new sanctions have been introduced against Moscow, which is almost the same number as it was imposed before.
Biden bans imports of Russian oil and gas to the USА.
A cryptocurrency exchange Binance has announced its intention to suspend operations with Mastercard and Visa cards issued in the Russian Federation starting from March 9.
Shell and British Petroleum withdraw from Russian oil and gas. They will close their petrol stations in Russia.
The new package of EU sanctions against Russia will affect Russian businessmen and politicians, and it will also be aimed at disconnecting three Belarusian banks from the interbank financial communication system SWIFT.
The owner of KFC and Pizza Hut suspends the investment and halts the development in the country. There are about 1,000 KFC restaurants and 50 Pizza Huts in Russia.
Australia has joined other countries to impose sanctions against Russia.
The platform which provides the protection of websites against DDoS attacks, content delivery and storage will comply with the sanctions.
The Japanese payment system JCB, which could have replaced Visa and Mastercard, will suspend operations in Russia.
UnionPay cards, which are issued by most Russian banks, are too expensive for an average client. For example, in Rosselkhozbank, issue prices start at 7,500 rubles; in Zenit Bank, you can open a bank account for 1,200 rubles.
The Dutch technology investor Prosus, VK's largest shareholder, will write off its $700 million stake in the company.
The European Commission developed a draft plan to phase out Russian coal, oil and gas until 2030.
US senators introduced a bill banning gold deals from the reserves of the Russian Central Bank to prevent Moscow from liquidating the reserves accumulated since 2014 thus compensating for the effects of severe sanctions.
The Russian Central Bank decided not to resume trading on March 9 in the stock market section of the Moscow Stock Exchange. The last auction was held there on February 25.
Russian citizens are unable to withdraw cash at ATMs.
Due to sanctions, Coinbase, the cryptocurrency exchange, blocks more than 25,000 wallets of Russian citizens.
The British Parliament backed a bill to simplify sanctions.
Washington will take action if China refuses to comply with Western sanctions against Russia, and the United States is capable of doing so.
International isolation
"We will not surrender. We will fight till the end": Zelenskii addressed the British MPs with references to the speech of Churchill made in 1940.
The video game company Activision made a joke on Russia apologizing for using Russia as an antagonist in their series of games. They said that if they had known the truth they would have used a much more competent military, such as Cuba or Laos.
The English Premier League and FA Cup will stop broadcasting matches because of the Russian invasion of Ukraine.
The European organization for Nuclear Research, known as CERN, has announced the suspension of Russia's observer status.
David Beckham and his wife Victoria called for help for Ukrainian children and their mothers. They initiated a UNICEF fundraising.
The Belurussian channel "Belarus 24" and the Russian channel "Pervyi kanal" were banned in Poland.