Armenia blames Azerbaijan in advancing in Karabakh and asks for help from "peacemakers of Russian Federation"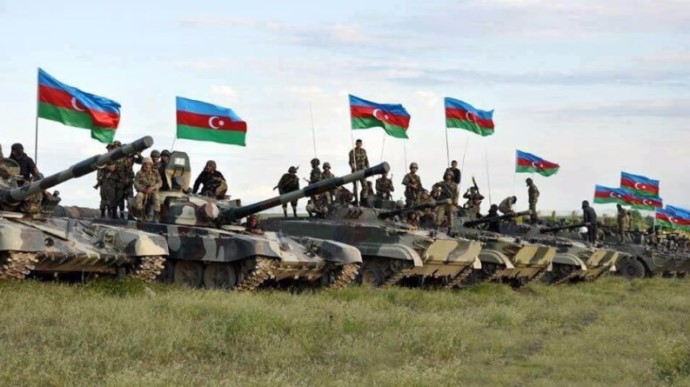 Armenia blamed armed forces of Azerbaijan in crossing the line of connection in the zone of "russian peacemaking mission" responsibility and occupation of the village Parukh in the unacknowledged Nagorno-Karabakh republic on the 24th of March.
"Azerbaijan continues the invasion in the zone of russian peacemakers' responsibility that began on the 24th of March in the Parukh village of the Askerian region. Intruded Azerbaijan divisions opened fire in the direction of Defense positions last night. Situation in Nagorno-Karabakh keeps tense," says in the statement of the Armenian ministry.
Due to this, Armenia expects that "peacemaking forces of the Russian Federation will see to it that azerbaijanian invading forces would be driven out of the zone they are responsible for, which means that azerbaijanian divisions are returned on the positions they were in on March 23rd".
In the unacknowledged Nagorno-Karabakh (armenian-occupied Azerbaijan territories) republic announced that after taking village Parukh, on the night to the 25th of March, Azerbaijan divisions opened fire on the Defence Army's divisions, using both firearms of various calibers and unmanned aerial vehicles, says armenian service "Radio Svobodu".
By the unacknowledged republic's data, at least 5 azerbaijanian soldiers died. From the Armenian side there is one wounded.
According to the "Radio Svobodu" information, women and children from the neighboring Parukh community Hramort were evacuated for safety reasons.
The Azerbaijan Ministry of Defense denied the heating of the situation "on Azerbaijan's territory, where the Russian peacemaking contingent is temporarily staying".
"Positions and dislocation are being clarified, no clashes or incidents happened. Armenian sources are purposefully distorting and escalating the situation. Their goal is to create panic , to confuse populace and guide it in the wrong course," said azerbaijanian Ministry of Defense.
MoD of Azerbaijan, in the morning of 25th of March, blamed Armenia for "hysteria", wrote Report.az.
"According to the Ministry of Defense of Azerbaijan statement, clarifying their army's positions is ongoing, so there is no reason for hysteria. The Armenian side is purposefully creating disinformation, artificially inflating the problem," said the message from MoD of Azerbaijan.