Activists of the Free Idel-Ural platform picketed the Festival Of The Tatar Song in New York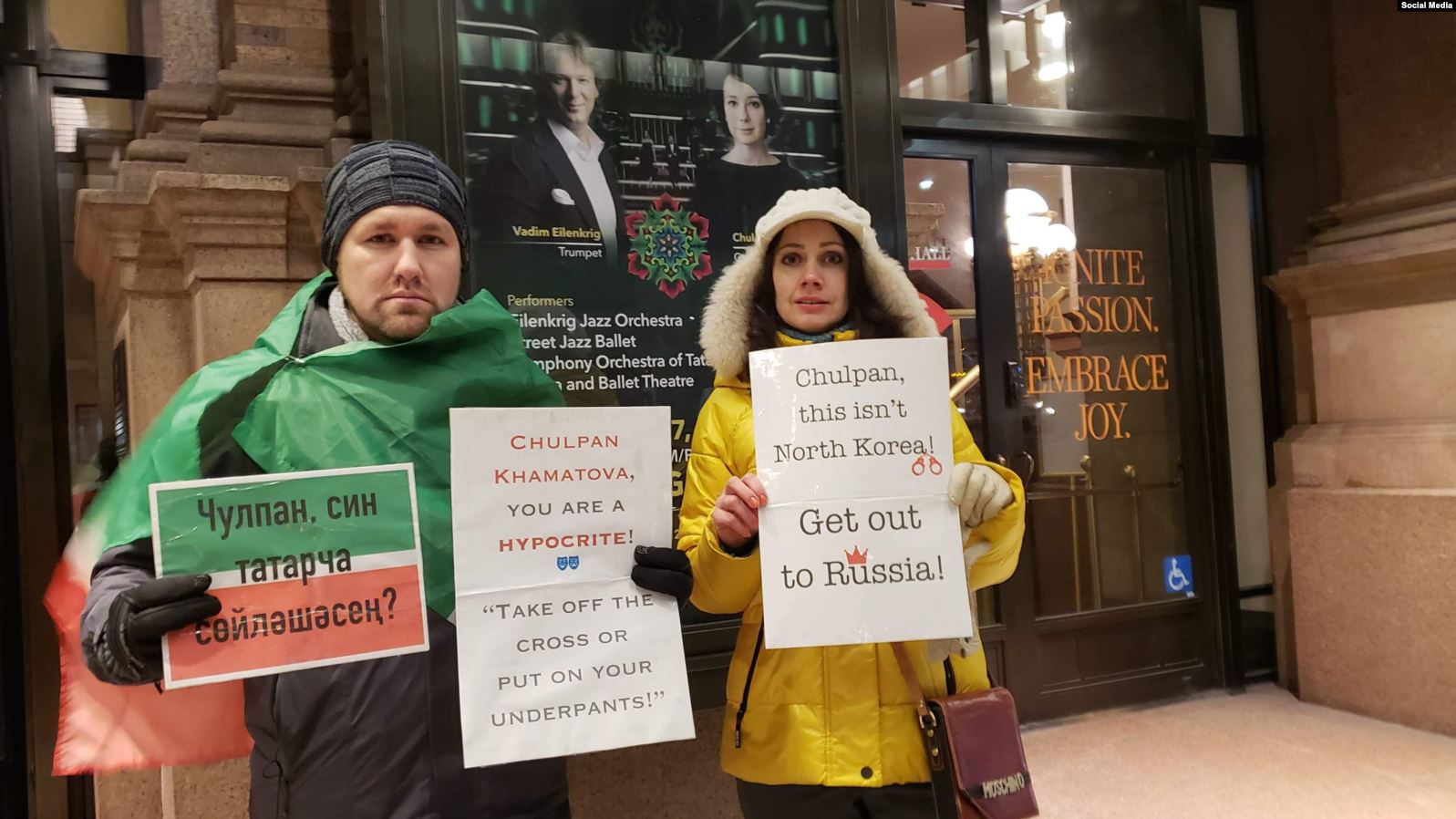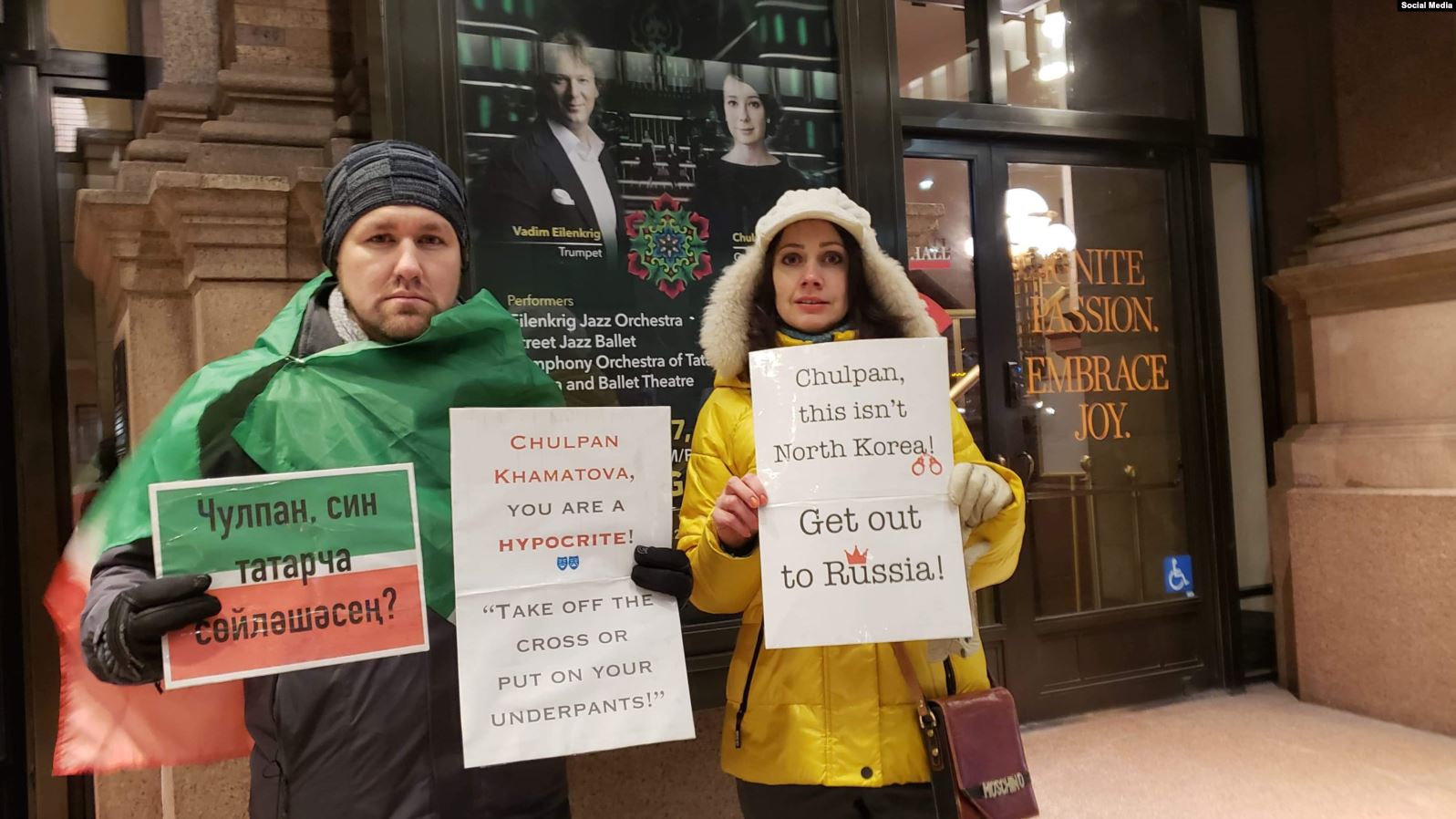 On the 17th of January, at the main entrance of Carnegie Hall in the New York, an action was held by activists who opposed Chulpan Khamatova's participation in the Festival Of The Tatar Song "Uzgaresh Zhile" ("Wind Of Change").
One of the picket participants was Kamil Sukaev, a representative of the public platform "Free Idel-Ural" in New York. The Correspondent Of the "Idel.Realii" Ramadan Ablaut talked with this activist about the campaign.
— Kamil, how the action went?
— The action at Carnegie Hall was calm without scandals. At the same time, we were photographed a lot. Several people approached and asked about the inscriptions on the posters (2 posters in English, 1 in Tatar).
— Was the festival a success for the organizers?
— The organizers couldn't sell all the tickets and just before the concert started, a representative of the Ministry of culture of the Republic of Tatarstan approached us and offered free tickets.
— Why are you against the participation of the Russian actress Chulpan Khamatova in the festival?
— Chulpan Khamatova is Vladimir Putin's person (despite the fact that she tried to deny), who has received awards from his hands many times. She is hypocritical and corrupted. Chulpan Khamatova is an entertainer at a concert of Tatar songs, but does not know the Tatar language at all. It would seem that this is nonsense, but how else to attract the audience to a concert in New York. Obviously, the financial side of the issue prevails here. Khamatova has no interest in Tatar culture/language.
— How do you assess the event program?
— My friends who were at the concert wrote that instead of folk songs (as stated) they performed (quote) "Tatar jazz, hip-hop and rap. The dancers were dressed as cowboys and Arab Bedouins." Many left after the intermission.
On the 17th of January, one of the main stages of the United States Carnegie Hall on the corner of Seventh Avenue and 57th street in Manhattan hosted the first of its kind the Festival Of The Tatar Song "Uzgaresh Zhile" ("Wind Of Change").
"The Ministry of culture of the Republic of Tatarstan will present Tatar music and popular songs based on the rich cultural traditions and ancient heritage of the Republic. The program will be led by theater and film actress Chulpan Khamatova, the group leader is Vadim Eilenkrig" – that was how the event was announced on the Carnegie Hall website.
"Idel.Realii" was able to find only 16 contracts, which were connected with the Kazan Festival and the concert in the United States. Their total price is almost 45 million rubles.
Chulpan Khamatova was Vladimir Putin's confidant in the 2012 presidential campaign.